10 Things to Do In Thailand In the Post-Covid World
Thailand's renowned attractions have been increasingly recognized on television, utilized as scenes in a few Hollywood motion pictures, and featured prominently in contemporary fiction. To see the Grand Palace up close, look over the Railey Beach sunset or lounge on the sands of Ko Phi Phi Don are among the best things to do in Thailand as the world reopens.
Embracing the Thai lifestyle naturally leads to experiencing the luxury life in this bountiful Southeast Asian nation. There's just so much to see and do to put it on your bucket list. Thailand is notable for its delicious food, ancient temples, gorgeous beaches, lively nightlife, and so much more. Thailand is a wonderful paradise one could spend years discovering what the country has to offer. If you're considering Thailand your next vacation destination this 2021 and onwards but aren't sure where to start, you've come to the right place!
We have below a rundown of the best things to do in Thailand to help you choose the perfect location for your next trip. Note that quarantine is mandatory before entering Thailand, so make sure you are all prepped for this as well!
1. Explore the Grand Palace in Bangkok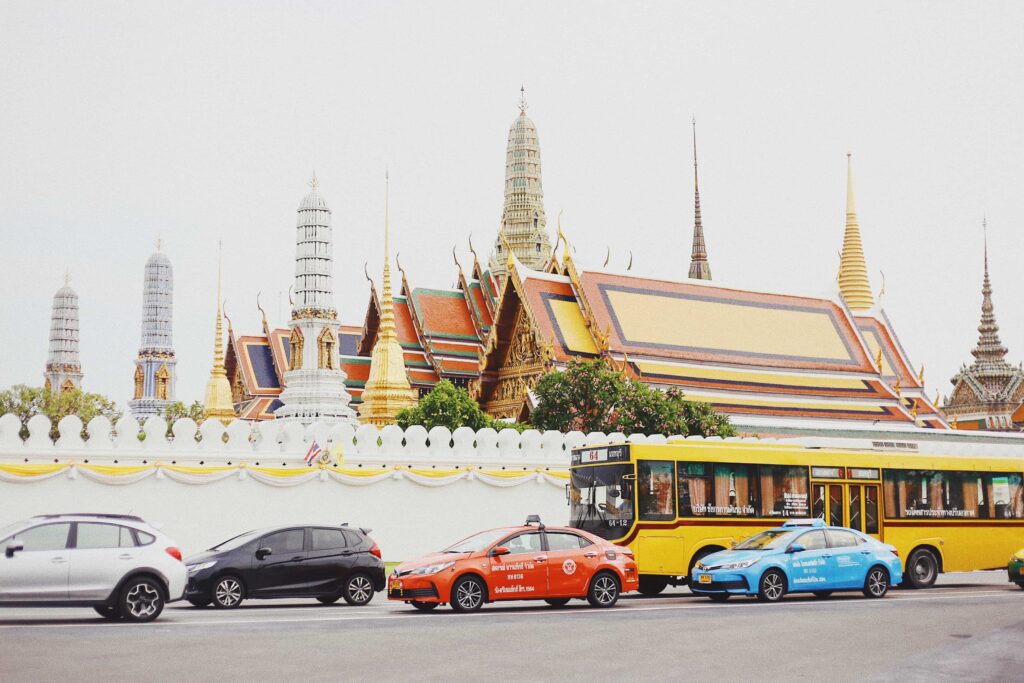 If there is one sight in Bangkok that you just can't miss, it is the magnificent, breathtaking Grand Palace—without a doubt the city's most popular attraction. The Grand Palace, which has been the residence of the Thai King, the Royal Court, and the government's authoritative seat since 1782, continues to impress tourists and travelers with its incredible architecture and unique design. It is the perfect homage to Thai people's inventiveness and handwork.
Inside its dividers were likewise the Thai war clergy, state divisions, and surprisingly the mint. Today, the place remains the profound heart of the Thai Kingdom and its people.
It is required that guests dress modestly when visiting the Grand Palace. Guards have the right to refuse your entry if they deem your outfit inappropriate.
2. Go on a road trip to Phang Nga Bay in northern Phuket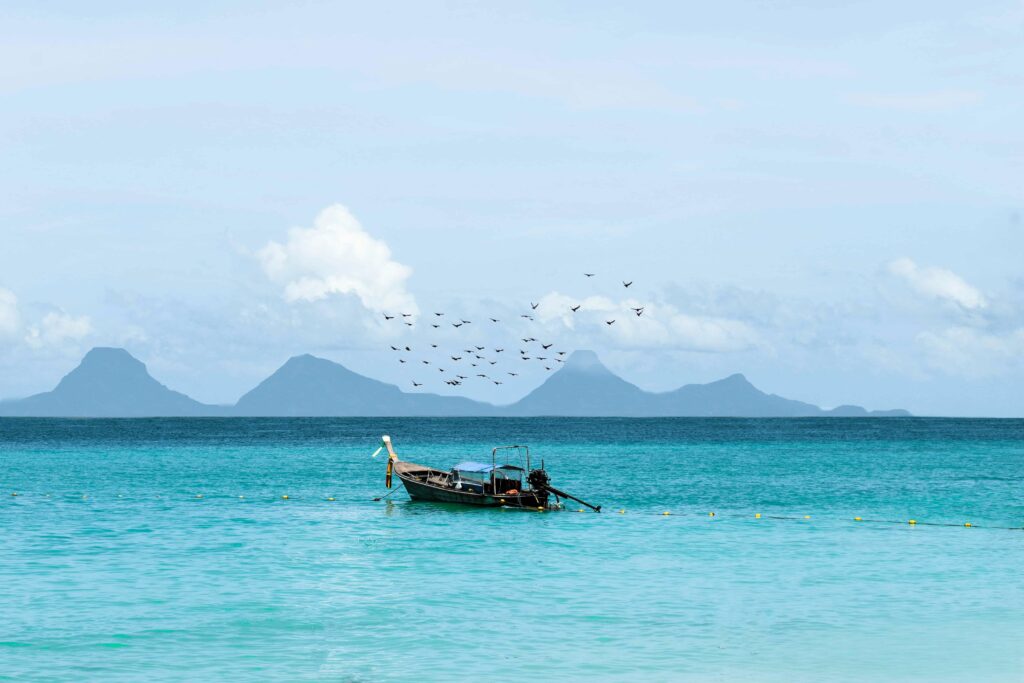 Found northeast of Phuket, Phang Nga Bay is a one-of-a-kind place on earth. The sheer limestone cliffs that pose upright out of the turquoise green water attract most tourists.
Just two of the bay's most well-known sites are James Bond Island and Koh Pannyi. By far, the most fantastic way to experience the stunning view is to take one of the boat excursions from Phuket's northern end.
A relaxing road trip through the beautiful limestone islands, with stops along the way to enjoy the calm seashores, is undeniably more satisfying than the regular transport boat tour.
3. Take a dip in the waters around the Similan Islands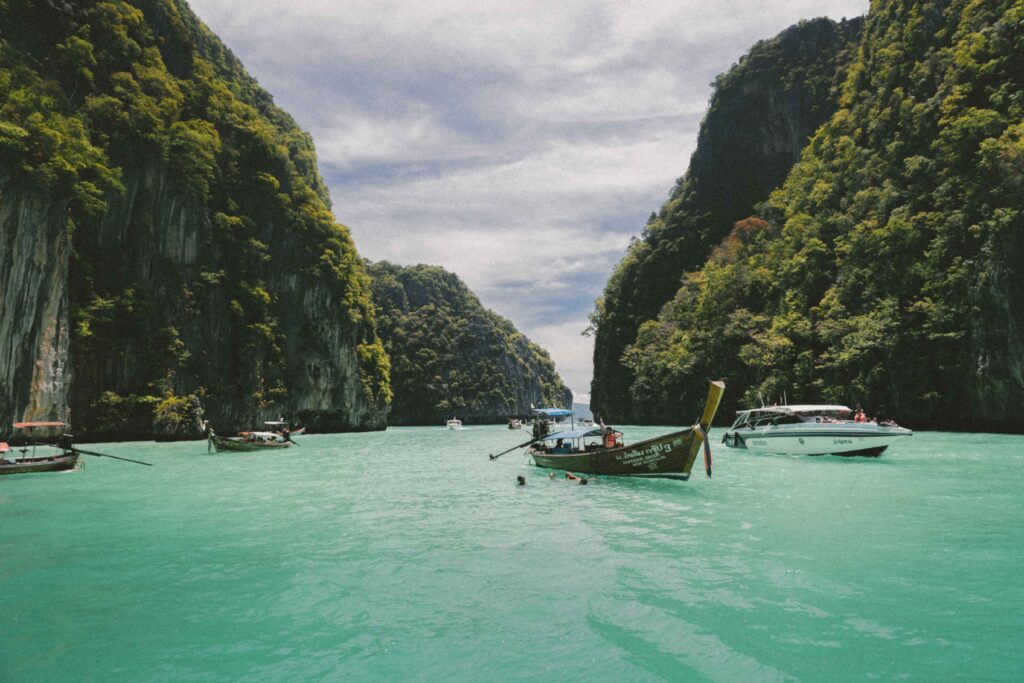 This gathering of rocks and islands lies an hour and a half by speedboat off the shore of Phang-Nga, or at least eight hours by a slow boat from Phuket. The territory was proclaimed a Marine National Park in 1982 and thus remains generally undeveloped. From the Malay expression 'sembilan', signifying 'nine', Similan alludes to the group's nine principal islands. The waters encompassing the Similans are abundant with exotic fish, vivid corals, and they offer extraordinary underwater sights.
As an outcome, diving here is widely regarded as the best in the country and comes close to the finest in the world.
4. Shop at the floating markets of Bangkok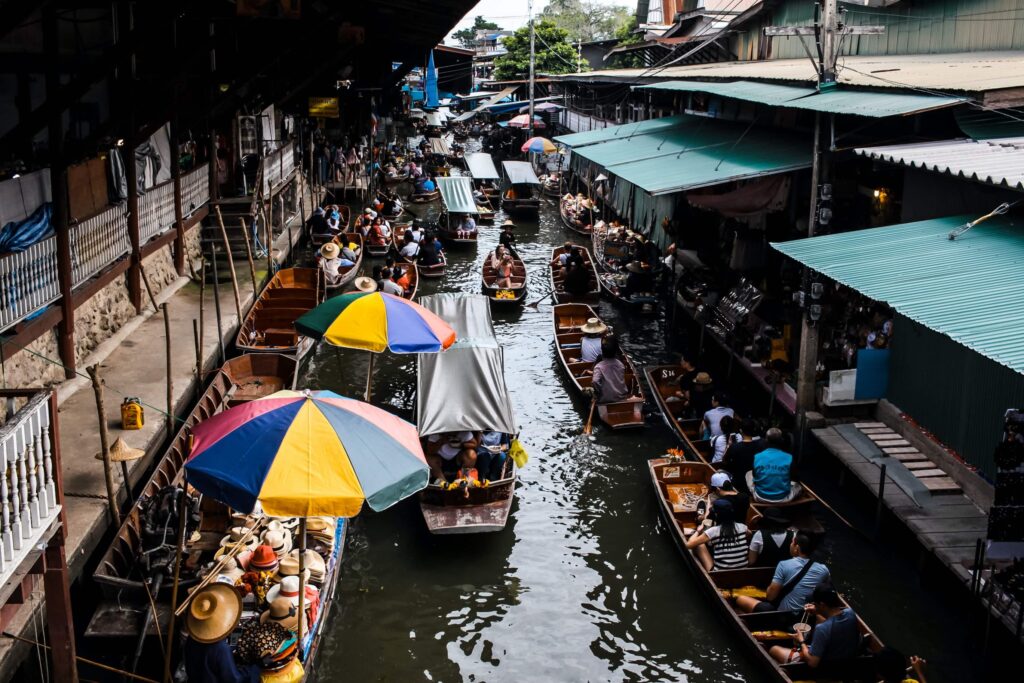 Numerous individuals are accustomed to Bangkok's colorful floating markets thanks to prevalent photographs in tourist guides and travel books. Although today's sales are more concerned with tourists than locals, the floating market boats are still stacked high with tropical fruits and fresh vegetables, freshly prepared coconut juice, and local food cooked in skimming kitchens situated right on the boat.
To appreciate the scenery without worrying about the cost, try unwinding on a guided ferry ride through Damnoen Saduak market. Bang Ku Wiang Market, Taling Chan Market, Tha Kha, and Damnoen Saduak are among the other floating markets you need to explore.
5. Get a tan on the Phi Phi Islands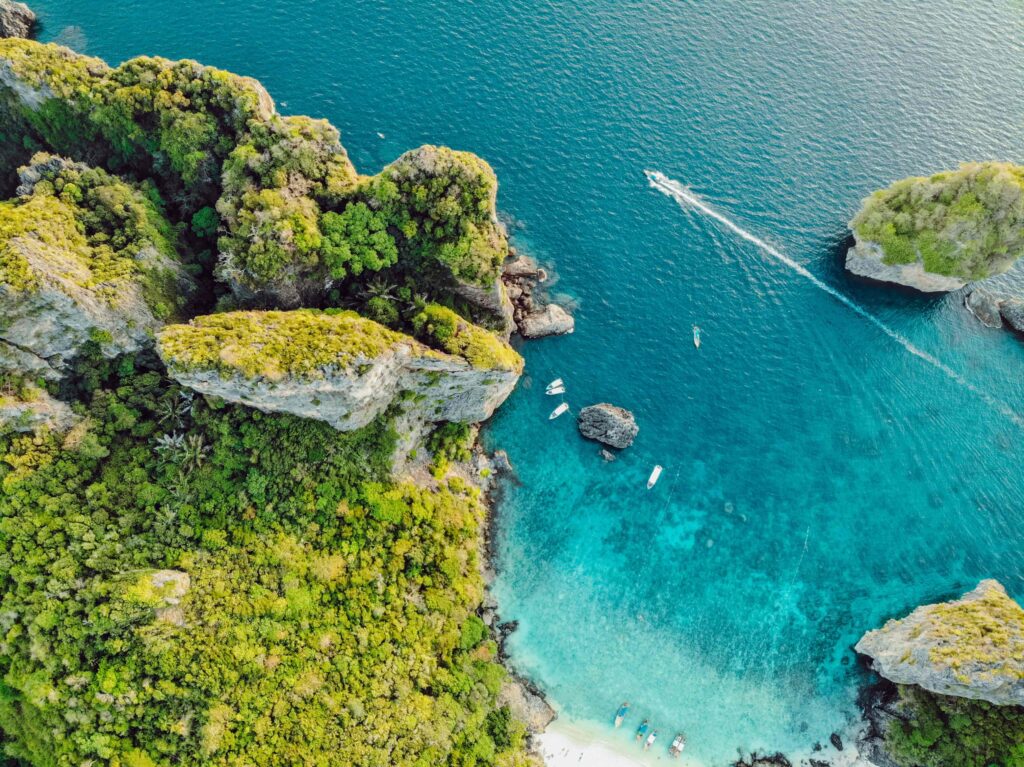 The Phi Phi Islands are among the most charming in Southeast Asia. Simply a 45-minute speedboat side trip and an hour and a half ferryboat ride from Phuket, these lovely islands offer an ideal tropical escape. Exemplary seashores, shocking stone developments, and distinctive turquoise waters overflowing with vivid marine life—it is simply heaven on earth. The two main islands are called Phi Phi Don and Phi Phi Leh.
The larger and more popular Phi Phi Don draws many tourists to relax on its exquisite beaches. For others, Phi Phi Don is the final word on nightlife indulgence, while the more modest and isolated Phi Phi Leh has some of the world's most spectacular bayous and seashores, including the renowned Maya Bay.
6. Visit Doi Suthep in Chiang Mai
Doi Suthep is one of the most important places in Chaing Mai. "If you have never experienced Khao Soi or seen the view from Doi Suthep, you have never been to Chiang Mai," goes the popular Thai saying.
From its peak, this majestic mountain rises above the city from the northwest, offering stunning views of the neighboring countryside and Chiang Mai.
Apart from its commanding appearance on the skyline, Doi Suthep is home to many of the Kingdom's most beloved artifacts, such as Wat Prathat Doi Suthep Temple and Bhubing Palace.
7. Feel the sand on Railay Beach in Krabi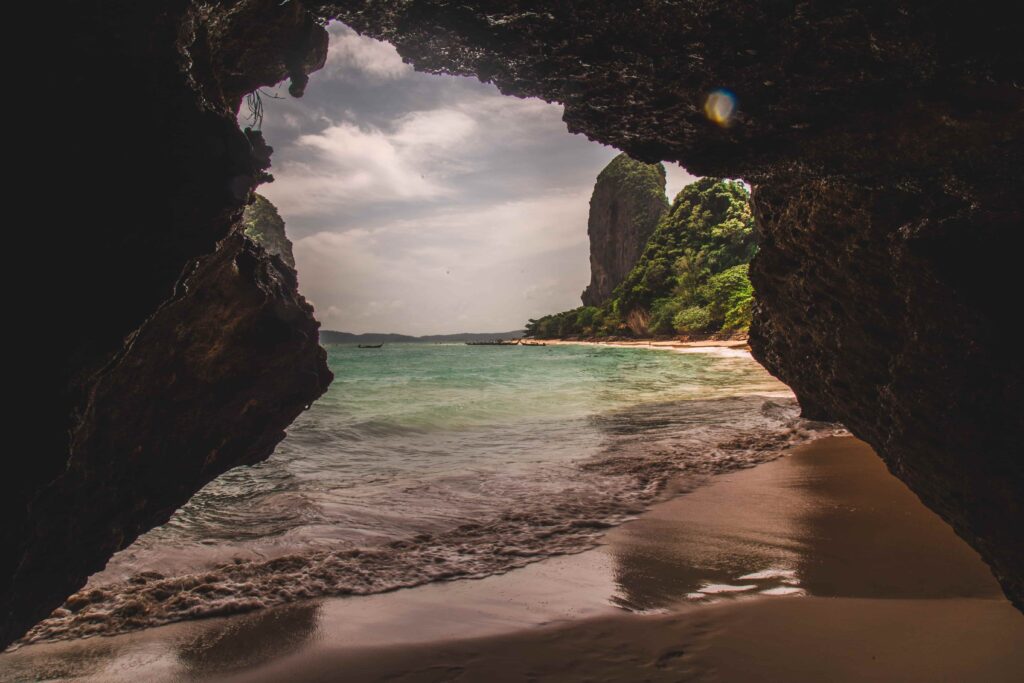 Railay is one of Thailand's most widely visited seashore sites, and it is a staple on many people's bucket lists. Railay is a quiet and remarkable area located in the southern part of Ao Nang Beach, around a rugged clifftop and reachable only by boat. Beautiful white sand seashores, limestone precipices, perspectives, caverns, and a tidal pond hidden within the bluffs, all shaped and maintained by the changing tides, can all be found in just one little peninsula. And it is all within a short walk!
Railay is the epitome of tropical bliss, with no streets and no problems. It offers quiet days, adrenaline rushes, and relaxed nights.
8. Take a tour around the cities of Mae Sariang and Mae Hong Son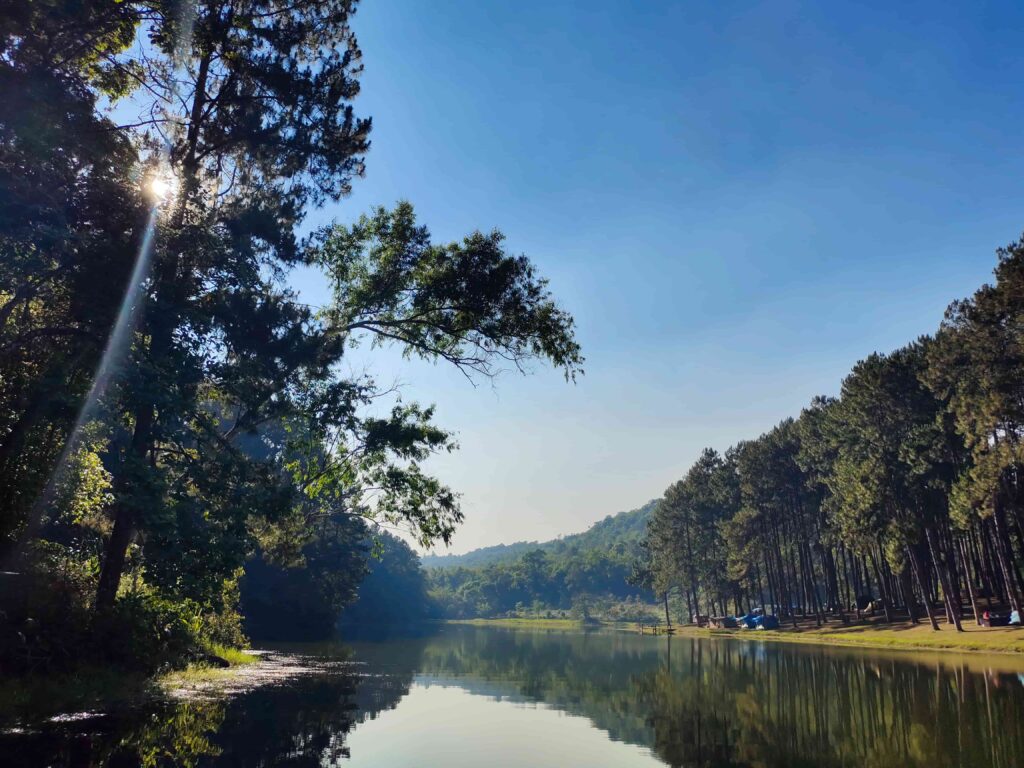 The northern cities of Mae Sariang and Mae Hong Son are among the top tourist attractions in Thailand if you want to get off the outskirts of town and discover the real Thailand. These two cities in Mae Hong Son province are home to a diverse community, delicious cuisine, and thriving business sectors. The close-by mountains offer a broad scope of exercises, including climbing to nearby hill clans, discovering caverns, and visiting cascades. While Mae Hong Son gets a couple of unfamiliar vacationers every day, Mae Sariang is highly uncommon to most tourists.
The best way to get explore is to rent a bicycle and go at your own pace. The Mae Hong Son Loop has over 4000 curves along with 600 street kilometers. It is undoubtedly a grand excursion that will guide you through traditional cities, wild woodlands, and stunning scenery.
9. Run around the green lands of Pai in northern Thailand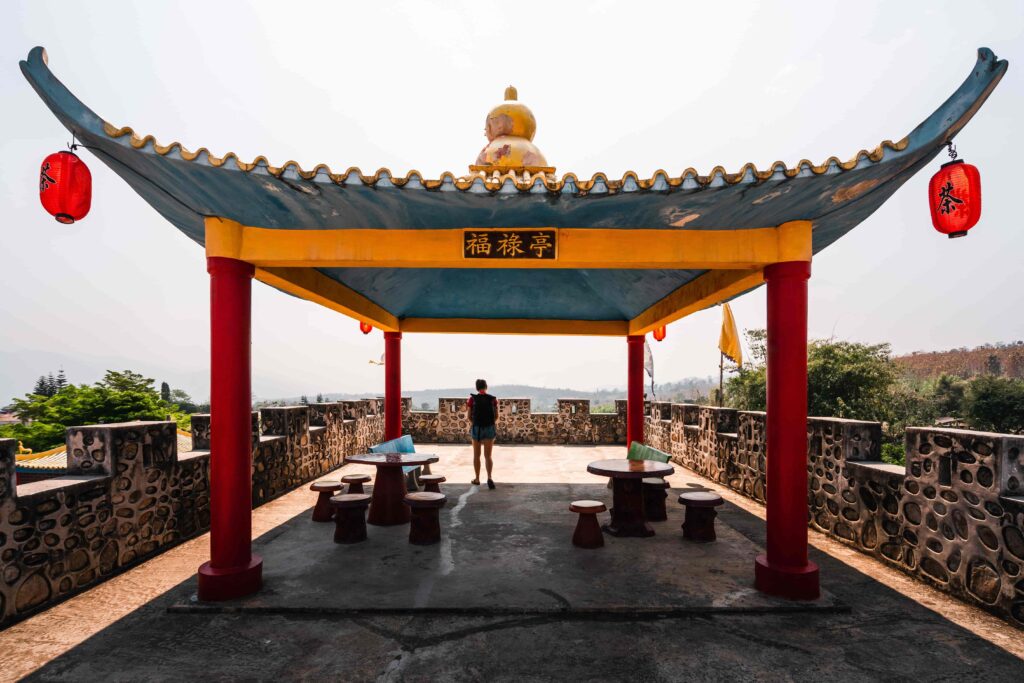 Pai is a stunning and unique town in northern Thailand. Indeed, there is so much to see there. There are wheatgrass juice pubs, veggie markets, and little chic cafes aplenty, but there are also some riotous bars boldly selling whiskey buckets for the rough backpackers.
Some will be pleased to hear that this is just on the superficial level. If you want to take a step further, hire or rent a bicycle. This will allow you to get out and discover Pai's great outdoors. You'll be rewarded with some of Thailand's most spectacular landscapes.
If hill strolls, untainted cascades, unguided traveling, and general laid-back vibes are your thing, get yourself to Pai, gorge out in the town if you need to, get out there and discover your surroundings!
10. Fill yourself with street food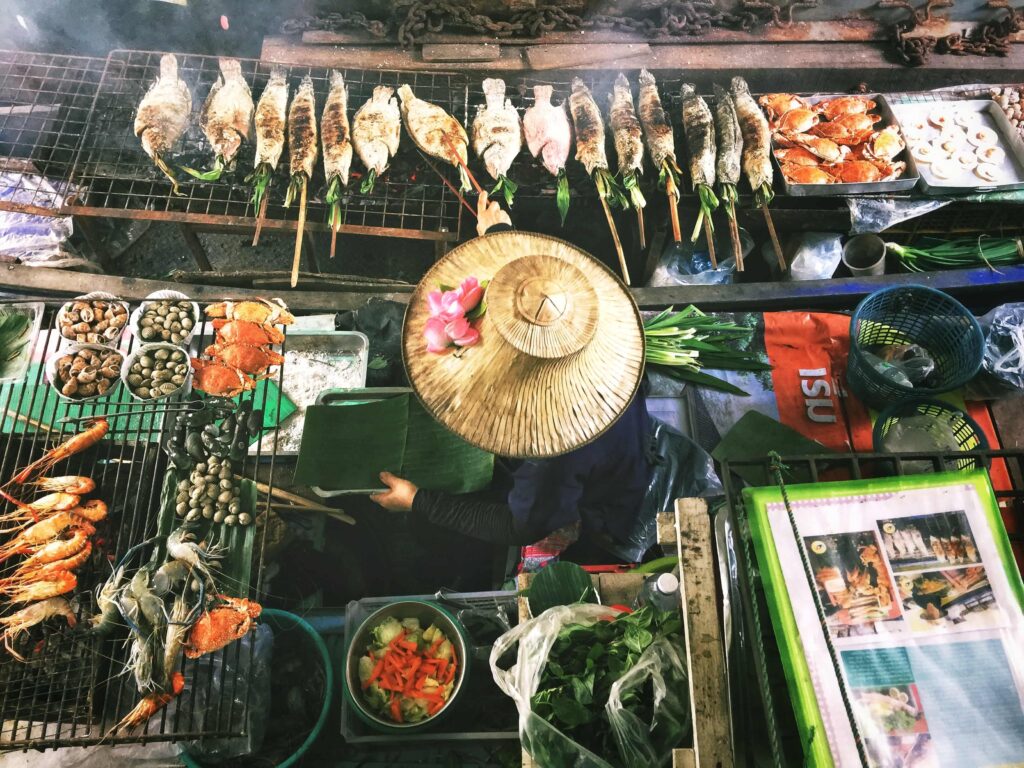 Who doesn't enjoy Thai cuisine? It is one of the things that make going to Thailand so exciting! Thailand, the Land of Smiles, has the best street food scene in the world. Asia is a street food paradise in general. But Thailand stands out for taking street food to another incredible level.
Bangkok has a great mix of delightful Thai street food, which comes in a variety of kinds. It might be a small truck out and about, a smattering of stalls in a nearby market, or even a typical shophouse with tables sprawling out onto the roadway. Make sure to grab local cuisines like Pad thai, Khao mun gai, Pad krapao moo, and many more!

Conclusion
With the world opening back up, you'll need this guide of things to do in Thailand! Thailand will undoubtedly provide you with a wide range of experiences with many incredible tourist attractions you will definitely love.