15 Fun Things to Do In Bangkok
Some places can be so perfect for those who seek adventure. Bangkok, for one, is a place like a piece of heaven. People all across the world with different cultures, backgrounds, personalities, and ages are welcome to this tropical hangout. About 20 million international visitors come to Bangkok each year.
Bangkok is the incredible capital city of Thailand—literally and figuratively the heart of mainland Southeast Asia. Bangkok is the country's largest city and is home to Thailand's both modern and traditional destinations.
In Bangkok, you do not have to scour for activities to do. In fact, you will need to plan your visit carefully to enjoy as many adventures as you can, especially if you are only staying for a while.
What You Can Do In Bangkok
1. Fall in love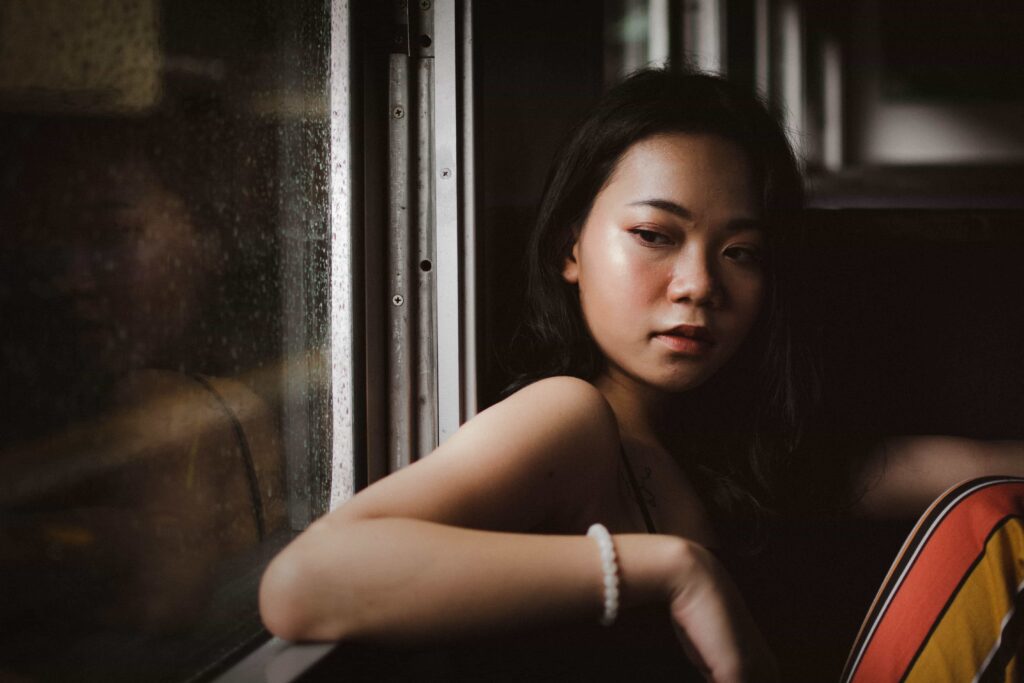 What better way to start an adventure by having someone to share it with?
Bangkok Dating is lively and unique. While the city has dramatically progressed, the people have retained traditional values. Thai people are generally conservative and shy but are easy to acquaint with. Respect and good manners are sometimes all you need to make a friend and possibly a partner.
You can meet people by dating websites and mobile applications like TrulyThai and ThaiCupid. You can also socialize in person while enjoying good music, refreshments, and ambiance at top rating bars such as Backstage Cocktail Bar and Sky on 20. If you are in for a fanatical experience, give Soi 4 Nana Plaza a shot.
Bangkok dating will be your most memorable foray yet.
2. Dine and drink
To follow up on the discussion of delectables, it is worth noting that Bangkok offers a multitude of options. Bangkok can cater to all kinds of diners, from the daring ones to the timid gastronomes.
For those who have the appetite for distinctive eats, visiting the night markets is one of the must things to do in Bangkok. The Train Night Market Ratchada, Srinagarindra Train Night Market, and Indy Market are just some destinations where you can sample local street food and fresh seafood from stalls. To those who prefer comely restaurants while enjoying authentic Thai meals and drinks, fine dining at Bangkok's Blue Elephant Cooking School & Restaurant Bangkok or Le Normandie will never disappoint.
3. Shop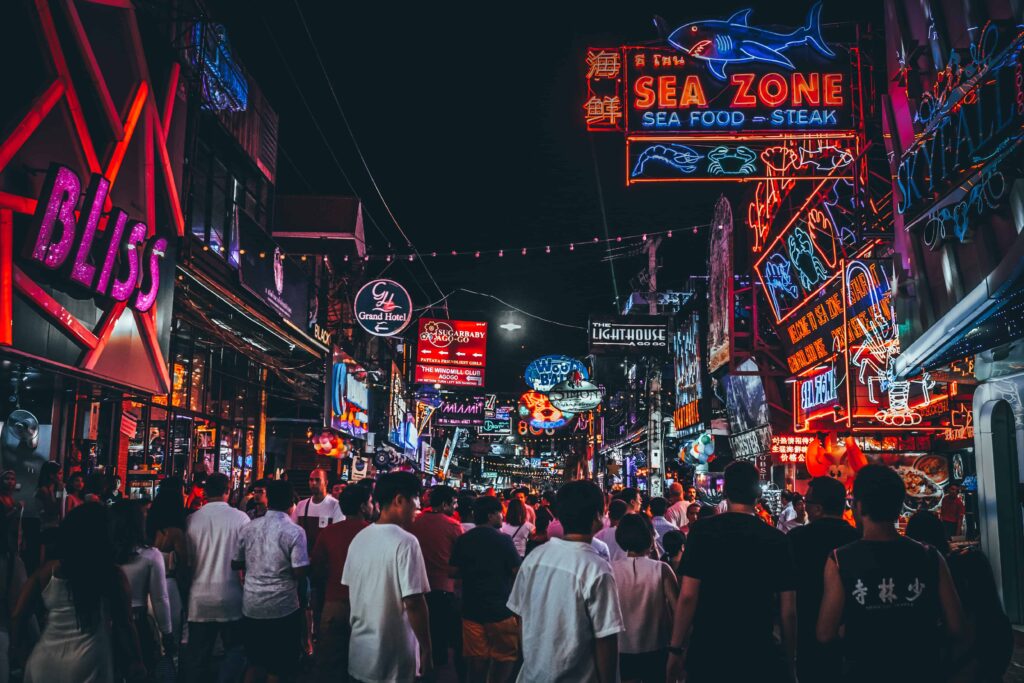 After a satisfying feast, how about a lazy stroll around markets and malls?
ASIATIQUE The Riverfront and Palladium Night Market are favorites when it comes to shopping for shoes, clothes, souvenirs, and a variety of merchandise while enjoying the city view. Bangkok's Siam Paragon and EmQuartier are the best go-to places for designer brands and luxury items.
If you are feeling adventurous, explore around Chatuchak market. You are sure to garner great finds from the weekend market's 8000 stalls.
4. Relax
End each day with legit Thai massage and spa treatments right at the city center. De-stress with Aromatherapy, massages, facial treatments, and herbal body scrubs and baths in Bangkok's popular spa centers.
Achieve that glow and feel refreshed and rejuvenated at Let's Relax Spa. It is well-established with several branches across Thailand. You can conveniently plan your spa experience through their website where all treatments are listed. Double up on the pampering and try Four Hands Thai Massage, a treatment performed by two therapists at the same time.
Heritage Spa Bhawa Spa in central Bangkok is also a must-try. This center promises healing hands, perfected techniques, and natural ingredients that will surely indulge your relaxation needs after a busy day of exploring.

5. Swim
Traveling to the conventional tourist spots buzzing with crowds is exhilarating. If you are looking for some quiet to boost your Bangkok dating experience, however, a staycation to The Siam is the finest choice. Have a romantic dip in the hotel's saltwater pool while looking out into Bangkok's Chao Phraya river. A sentimental boat cruise on the river is also a great idea.
If a city view is more to you and your partner's liking, book at Bangkok's The Okura Prestige. The hotel boasts an infinity pool, 25 meters in length overlooking the beautiful city of Bangkok.
6. Scout for art
Be awed and see the incomparable Thai art and artifacts at the Bangkok National Museum. It houses the biggest collection of art in all of the country. Bangkok National Museum showcases the splendor of the royalty and the rich history of Thailand.
MOCA (Museum of Contemporary Art) Bangkok is also not one to miss seeing in the city. It is privately owned and specially designed to feature the best of Thailand's artistry. Photo and painting collection as well as sculptures are displayed. They also hold events and exhibitions. Best of all, you can shop so you can own something to hold the memories of this trip.
7. Tour
Continue to feast your eyes on Thailand's workmanship through architecture by touring landmarks. Historical and monumental landmarks represent the country's identity like the Victory monument sitting in the busy Ratchathewi district and the Democracy Monument in Banglamfu.
Stroll around the parks of Phra Sumeru Fortress, erected in 1783 along the Chao Phraya River. This archeological site was a church. Tourists now frequent this destination to stroll, take pictures, and enjoy sunsets.

8. Enjoy spontaneous adventures
Even if you tried, it is simply impossible to run out of fun things to do in Bangkok. Ditch the map and go with the city's flow. Ride the Sky Train. Opt for Khlong boats. Wander around and see locals going about their life. Let your Thai date introduce you to his/her family and friends. Allow your beau to lead you to secret, hidden spots in the city.
9. Express your inner child
Be carefree in Bangkok's sensational Dream World and Snow Town. This amusement park has zones that have distinctive, enchanting themes. Dream World also has thrilling role coasters and other impressive rides. You can arrange your activities, food, and transfer smoothly online.
10. Indulge in luxury
Go glamorous and reserve a stay at Sukhothai Bangkok. Prepare a gallant date night in the dreamy Thai atmosphere of this hotel, fashioned with sophistication while retaining native elements.
11. Take the best pictures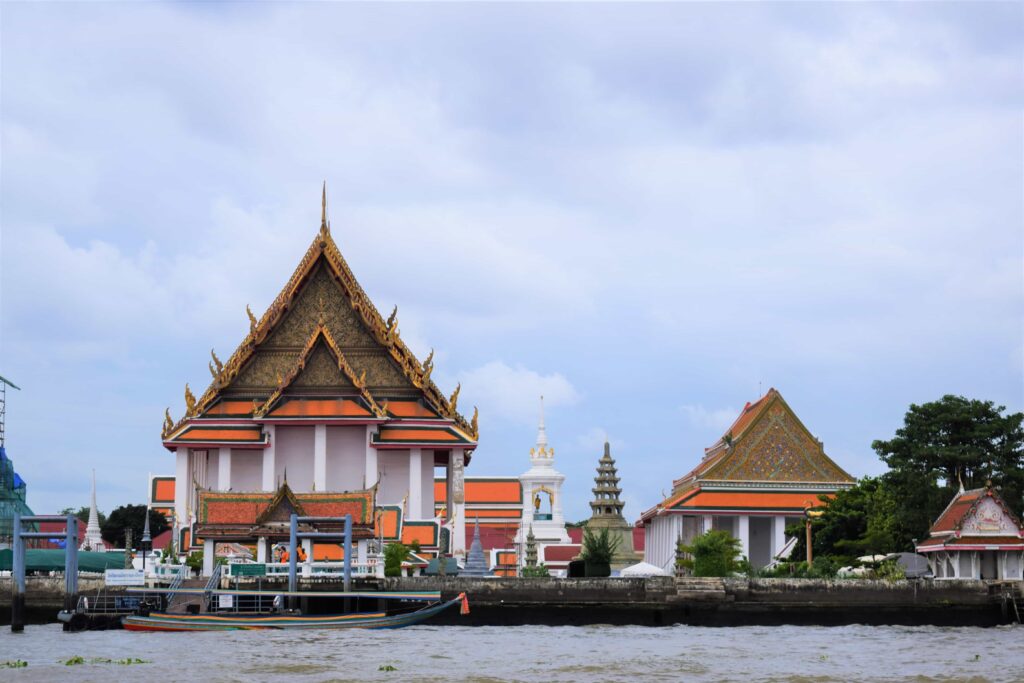 Taking beautiful photos has somewhat become an indispensable part of traveling. With Bangkok's already perfect sceneries, one does not need technical photography skills or sophisticated cameras to perfectly capture moments.
12. Sing and dance!
Intensify your Bangkok dating experience by daring the city's nightlife. Guarantee a safe and entertaining experience by joining the Bangkok Pub Crawl. Party all night at Khaosan Road, where the best street bars are situated.
13. Exercise
Bangkok is so paradisiac, it even makes getting healthy easy and entertaining.
Bangkoks' hotels, parks, and centers usually publish meditation, yoga, and other health events. Squeezing in your exercises should be simple and fun while you socialize and meet friends.
It is not for everybody, but if you find yourself looking for a thrill, go on ahead and try Muay Thai at Muay Thai Academy M.T.A. This gym is favored by the pros. However, it is also beginner-friendly.
14. Learn
To build a connection with the Thai people, cultural awareness is essential.
As with most societies, Bangkok's history and religion have the greatest impact on Thai people's way of life. This is manifested by the great developments that rose from traditional sites like Wat Pho. Wat Pho is an age-old monastery that has also become the city's first university. It is also within the complex of the Grand Palace, where the monarchy resided.
A large portion of the present residential and commercial locations are then Wats or Buddist temples or the royalty's structures. This explains how the city has gracefully retained its conservative and peace-loving nature through generations.
15. Immerse yourself in Thai culture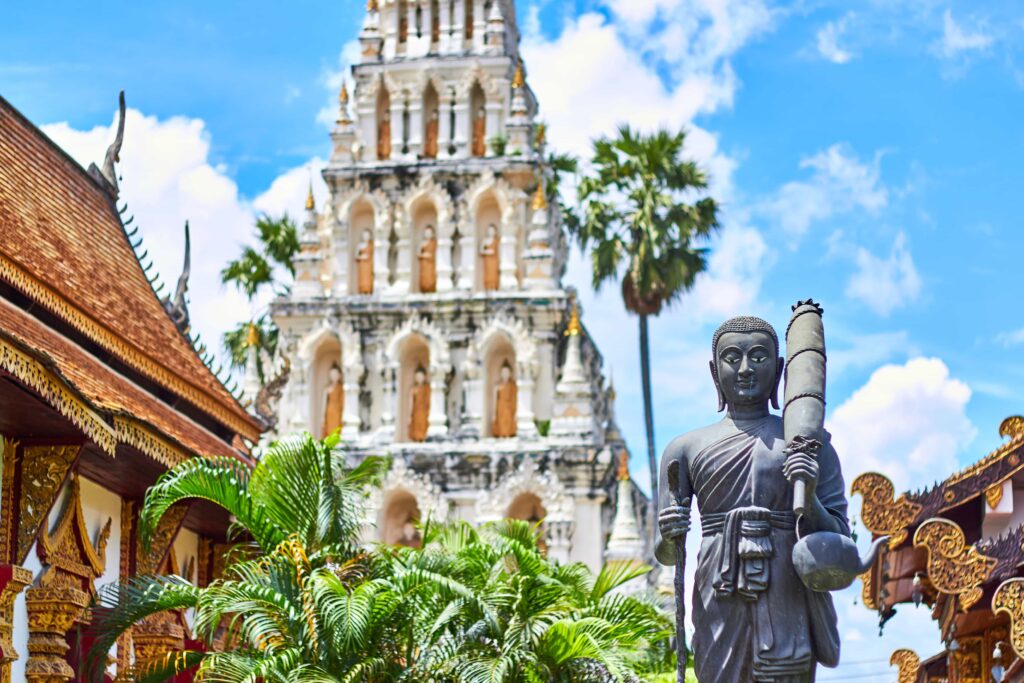 It is not necessary to conform to the Thai people's lifestyle if you are not accustomed to their ways. What matters is the wisdom to recognize, respect, and appreciate diversity.
Cultural and religious festivals are a fine time to bond with the locals. There are many festivals observed throughout the year so it is good to consider them when planning your Bangkok visit.
Songkran, anticipated every April, is the country's New Year. It is one of the most beloved Thai festivals. It is honored by going to Buddhist temples, visiting older family members, street processions and performances, and lots of water splashing. Water throwing ceremonies where people shower water on Buddha idols, monks, and each other are also common. Tourists are very much welcome to this gaiety.
The King's Birthday is also an esteemed national holiday, held on December 5th of each year. It is commemorated by house decorations like flower arrangements, bright lights, and yellow flags.
Loy Krathong or the Festival of Lights during November, The Spring Festival or the Chinese New Year, the Candle Festival in July, the Lantern Festival, and the Lopburi Monkey Festival every November are all meaningful holidays that you can warmly spend with your significant other and his/her family.
Feelings of loneliness and isolation are indications that you need change or enrichment in your social life.
Rediscover the things that keep you connected.