The Truth About Physical Intimacy In Thai Dating Culture
Being close to your partner physically is essential. Physical intimacy is one of the most vital foundations in building a strong romantic connection with someone. It is the element that changes and improves every aspect of the relationship. So what is the truth about physical intimacy among Thais?
Physical intimacy in Thai dating culture has a lot to do with their tradition and what they believe in. Considering that Thailand is a country rich in culture, it is not a surprise that there are tons of things you should know about before you embark on a Thai dating adventure.
How Is Loving a Thai Different
Many people say that showing love differs depending on where people come from. For Thais, this is especially true, and people can be slow to adapt to the differences between their culture and foreign or western cultures. Most of these can be seen in the personal, family, and religious areas.
Most Thais are brought up with deep values about family and their beings, which affects their views on physical intimacy. While in other parts of the world, losing virginity is not too much of a big deal before marriage – in Thailand, it is certainly not the case. Most men from Thailand expect to marry a virgin, which means that many Thai women are saving themselves for marriage.
Many foreign men think that getting into Thai dating is no different from dating people from around the world. However, it is not exactly true. Thai culture plays a big part in people's lives, which affects dating practice in the country.
Sure, there are stories of how other people fell in love with Thai girls who will say they had an easy journey. However, that is not always the case. Thai live in a diverse society. There are Thai people from different cities that have different viewpoints and approaches to love. But one thing is for sure; more Thai people stay in the traditional and conservative zone.
Is it alright to talk about sex in Thailand?
The answer is no. Love in Thailand comes with respect and responsibility. Most especially with Thai women, who usually have too much respect for their parents and their whole family. They do not talk about sex in public or with their parents. Their conservative culture is stronger in their homes, where many live in an extended family house.
There are places in the country like Pattaya, which is called the "sin city of Thailand," that are more liberal about sexual matters. But still, most parts of Thailand are quite conservative.
Public displays of affection in Thailand
As we have established, the country of Thailand has a conservative society. It means that being physically affectionate in public has some protocols.
Kissing
A public kiss on the cheek is usually acceptable, as well as a peck on the lips, which is okay in big places like Bangkok and Phuket. These areas have adapted some of the westerns practices, and they are influenced because there are a lot of foreigners living and traveling in the area. But, you still should not overdo the kiss if you do not want to get the attention of a crowd of people.
Also, one thing you should avoid is making out in public. It is seen as disrespectful and will only make the people around you feel uncomfortable. So, you have to show your affection discreetly or privately.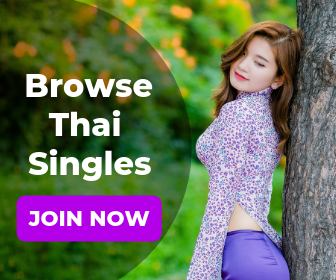 Hugging
A hello and goodbye hug is accepted. However, hugs are not common in most places since Thais have their own way of greeting each other – the "Wai". You can do it by doing a slight bow and with your hands in a prayer-like position. If you want to impress your Thai date, you must do it. Or if other people do it to you, you should do it in return.
Cuddling
Cuddling is a big no-no in public places in Thailand. Whether you are in a cinema, beach or mall, you should always avoid doing it. Hugging your partner for too long is also not appropriate. People will just look at you and tell you to get a room.
Touching
Holding hands in the streets of Thailand is accepted. Or if your partner wants to lock their arms with yours, it is totally fine. What you should not do is to be too touchy in public. Never touch your date's leg in a public place. It is too uncomfortable for other people to watch.
What is the best approach when dating a Thai woman?
Getting into a relationship with a Thai woman means that you have a lot of things to work for. There are some specifics you need to improve, and you need to avoid – especially in the realm of physical intimacy. Here are some tips on how to do it the right way;
1. Being a gentlemen
This tip may be a cliche. But, it is undeniable everyone can always be charmed by a gentleman, and that includes Thais. The truth is that this trait never gets old, and it might be your helper to win a Thai woman's heart. Loving Thais means that you should adapt to their culture and tradition. This means treating the ladies the best way possible is the top of the list.
2. Put effort into your dates.
Thais are appreciative people. They like it when you do things that you put effort into it. There are two things to show that you value them;
Number one: Make yourself look cuter
Whether you are meeting your Thai partner for the first time or already having your third or fourth date, you have to put effort into it every time. Always think ahead and think about what you should wear.
If you are a foreign man, you should avoid dressing up like every other tourist in Thailand when you are with your Thai partner. Always try to impress her by grooming yourself and dressing up. Most significantly, don't wear a sleeveless top and shorts on your first date.
Number two: Plan great dates
Bring your date to a unique, fun, and romantic place. As much as possible, never bring your date to a bar or club. It will only make her feel insignificant in your life.
A better idea is to take her on a day date trip where you can enjoy each other's company while exploring and traveling. Or take her to a nice cafe where you can have a good talk and get a chance to know her better. But the best option is to take her out for dinner in a romantic restaurant so she will feel special.
3. Play it smooth and slow
Dating someone from Thailand means that you must have enough patience. Most female Thais don't like people who are too aggressive in love. They don't want you to rush for love.
Many people say that self-control is crucial in new relationships. That is very true when it comes to Thai dating. Thai women like it when a guy is well put together and doesn't lose the temper in public.
Always avoid sexual topics.
Giving green jokes is forbidden, especially on your first dates. Always avoid it if you do not want your date to walk away. Instead, go with some wholesome compliments that will flatter them. You can start by appreciating what they are wearing or how beautiful their facial features are.
Respect everything about the Thai culture
If you are interracial dating with a Thai, a huge struggle is to have cultural differences. It can lead to some misunderstanding and conversation even at the beginning of the relationship. So you have to be understanding enough to listen to her.
Avoid saying insulting statements and offensive jokes about Thai culture. Also, never talk and generalize people in Thailand. They do not tolerate any of that.
How foreigners find love in Thailand
You would not believe that the number of people from all over the globe trying to find love in Thailand is growing every day. Maybe because people read and see testimonials of successful love stories with a Thai. If you are one of those people who want to find your soulmate, these are two of the things you can do.
Exploring The Land of Smiles
Buying a plane ticket to Thailand will give you a lot of opportunities to meet people in the country. It may require your time, effort, and money. But, once you find someone, it will be worth it.
Online dating in Thailand
Of course, online dating is one of the strongest contenders between the two ways to meet your Thai soulmate. Thailand is big in internet dating, which means there are a lot of options for you, even if you are just in your home. And the proven and tested site out there is Trulythai.com. It offers you a safe environment to meet Thai singles.
Conclusion
You might have read a lot of stories in regards to dating people in Thailand and physical intimacy. Some foreign men say that Thai Women are submissive when dating. They say that they never complain, quiet. And they are just waiting for a man. But, you should know that all of these are just false notions.
Thai people, especially women, are independent and hard-working individuals. When dating Thai women, you should keep in mind that you should be open to learning more about them. There are a lot of things that you should do before you conclude their personalities.
So, just enjoy your Thai dating journey with the help of TrulyThai tips. Or, if you are one of the people who are looking for a Thai date, TrulyThai.com is also here to assist you. Just visit and sign up today, and everything will fall into place!