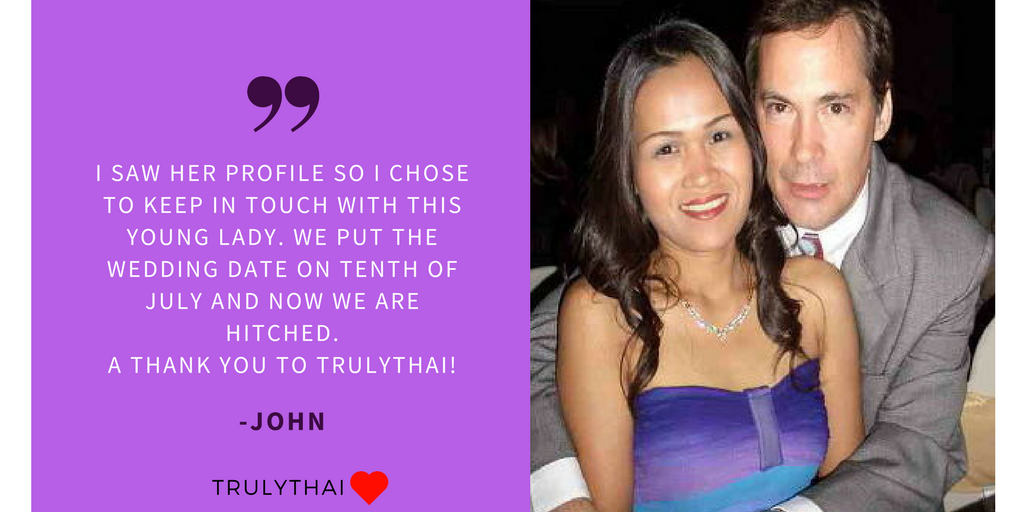 The contents of this article are solely based on John's story which he gladly sent over to TrulyThai.
Based on John's message, he was just about to stop using TrulyThai because he thought that no woman would be able to commit to a serious relationship and will all just be hook-ups until he saw Som's profile on the list of users who were currently online in May of 2015. He was captivated by her beauty and decided to give it a try once again so he immediately made contact with her with TrulyThai's messaging feature. John didn't expect that Som would reply instantly. Based on their chats, John describes Som as a very good conversationalist and a genuine and committed woman. Som is a bit of a workaholic but she was able to give time to communicate with John as much as possible.
John is a lawyer from Belgium and Som is an accountant from Thailand. They unexpectedly and happily found out that they shared some common interest as they are both fans of Stephen King's books and love everything about the ocean. He stated that both their jobs were pretty demanding so it was pretty hard to keep constant contact especially when both of them live in different time zones and practically on opposite sides of the planet. John lives in Belgium and Som is in Thailand. John knew that Som was the one for him so he didn't give up on making the relationship work.
After a few months of communication, he visited Som in Bangkok to meet her in person for the first time. His trip to Bangkok went great and he's now engaged to the woman of his dreams. They married in January of 2017 and are currently living in John's home country.
"A thank you to TT(TrulyThai)"
-John
Long distance relationships are never easy but when you give each other the right amount of love you can surpass anything. With TrulyThai, your dream Thai girl is just a mouse click away. Join the fastest growing online Thai dating site today!