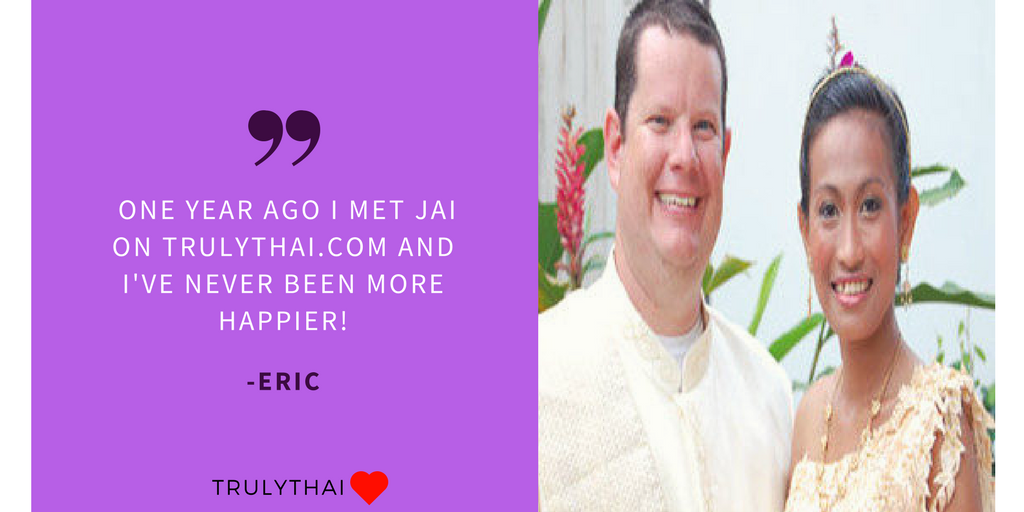 This article is solely based on Eric's love story which he gladly shared to TrulyThai.
Eric shared that the time he first met Jai on TrulyThai in April of 2014, he felt instant adoration and admiration towards her. Jai was a divorced single mother of a 5 year old girl and Eric was a widower with a 10 year old son. Jai had gone through a most inconsolable time that would be hard for anyone to forget when she was dumped by the father of her daughter about the time when she was about to give birth. Eric lost his wife 4 years ago due to cancer and he thought that he will not be able to move on and be able to provide a mother for his then 7-year old son.
Both of them were unhappy with their lives before they met. When they finally did meet in February of 2013 in TrulyThai, they began to once again feel joy. He travelled to Thailand a few times together with his son to meet Jai and her daughter.
They got the chance to know each other better and Eric was amazed how Jai was a very family-oriented woman. She always put her daughter and Eric's son first before anything else. With that, Eric felt in love even more with Jai and he knew that Jai would be the perfect woman he could grow old with. Eric asked his son if he will consider Jai and her daughter as his new mother and sister. Without hesitation, his son accepted Jai and they tied the knot in front of Jai's family in March of 2015 in Bangkok, Thailand. They are now happily living together with their children in Eric's home country.
"One year ago, I met Jai on TrulyThai.com and I've never been happier! She's the perfect woman for me."
-Eric
Sometimes, the best relationships are the ones that come in the most unexpected circumstances. But it will surely come in the right time and in the right place if you will just be patient enough to wait for the right person.
A successful love story is once again found through TrulyThai. Find your Thai beauty on one of the fastest growing Thai dating sites now and be as happy as Eric and Jai!