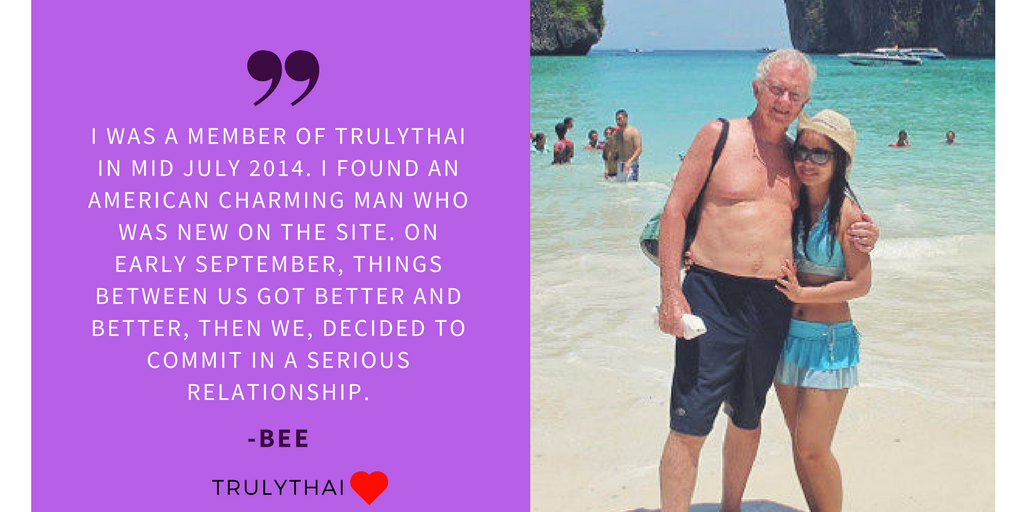 This is about two individuals who started their love story in TrulyThai.
Always look at the bright side of things. You never know that at any moment you could meet your ideal match. Bee started out very hopeless after her major breakup and decided to join TrulyThai to find someone who will be able to open up her doors to love again. She was doubtful at first if she will be able to find a better and committed man for her at TrulyThai. Luck was with her and she met Richard in mid-July 2014, a charming American national.
Bee had just found out that she and Richard were both new members in TrulyThai and he had just also went through a major breakup. Despite their culture and age difference, Bee was very happy that she met a man who understands and loves her unconditionally.
Then Richard came to Thailand to meet Bee personally. The photo above was their very first photo together at Maya Beach, Phuket, Thailand. When Richard went back to America, he promised Bee that he will come back to Thailand very soon. One year later they got married in Thailand and Richard brought Bee to America to live happily together.
"I joined TrulyThai to mend my broken heart. I was able to meet many nice guys there but then I met a Richard. A charming American man. We were just the perfect match. We even agreed on the same things, from likes to dislikes. We kept constant communication even though it's hard because of time zones but we were able to get through it. We got married in August of 2015 and we're very happy with each other."
-Bee
Bee and Richard's story sure is very inspiring. Another love story has been made because of TrulyThai. What are you waiting for? Create a free account now and find your Thai match on one of the most trusted online Thai dating sites available today.
Remember after a broken heart it is not the end, so join TrulyThai today and find your match in Thailand!