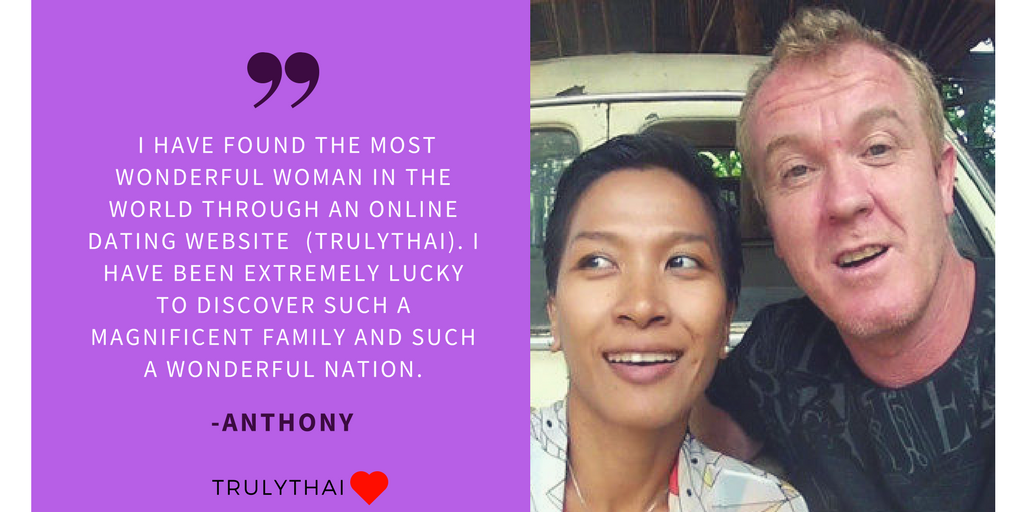 This is based on the story that Anthony sent to TrulyThai when he married his Thai match in May of 2016.
Anthony's story started when he met Pim through TrulyThai in January of 2014. Anthony was very happy that he met a Thai woman who's very patient with a golden heart and living in an awe-inspiring country. Anthony got interested in Pim's profile as she stated that she loves animals, especially dogs, so he immediately sent Pim a chat message.
They just had casual conversations at first and then their relationship eventually progressed to falling in love. That was when Anthony decided to fly to Thailand and meet Pim. While they spent their time in Thailand, Pim was able to tour Anthony around her beautiful city and it also helped them to know each other more. Pim was happily surprised when she found out that Anthony is a veterinarian from Canada. She got curious with the very first chat she had with Anthony because he sent her a joke that said "you will need to lick the affected area as often as you possibly can" which was a reference to his veterinary work with dogs.
By the time Anthony had to go back to his country, he promised to Pim that they will continue their communication in TrulyThai and he will come back to give her a very special gift. Pim was hesitant and very sad wondering if their long distance relationship would last considering their issue with time zones. It took a lot of work for their relationship to go further. After 2 years, Anthony kept his promise and came back to Thailand to see the love of his life. When he arrived at the airport the first thing he did was knelt down and asked Pim to be his wife and Pim proudly said yes. They tied the knot in May of 2016 and are currently enjoying each other's company as man and wife.
"We are a very happy couple. If not for Truly Thai, I wouldn't have been able to meet Pim!"
-Anthony
In order to make a relationship work, there has to be a lot of patience and understanding, most especially if you both live on opposite sides of the planet. But then if you're committed to one person, your love can surpass anything. Even distance.
Why not be a part of the fastest growing Thai dating site today and see it for yourself?